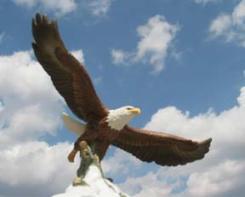 Welcome and thank you for visiting our website for On Eagles Wings Inn. We are a country retreat venue located in mid-Michigan that offers the serenity and quiet relaxation to those wanting to truly get away from the hustle and chaos of the every day.
As you turn on to the drive leading up to the inn, even with the "tell tale" gate, you may mistake it for a dirt road dissecting a parcel of country land or just another gravel driveway that might indicate a wrong turn.
Of all the turns one can take to find peace in a world packed with people and problems, this is a turn for the better. It is, in fact, the beginning of your journey to one of the most relaxing getaways you can find.
Driving along the nearly mile long driveway, you may spot a flock of wild turkeys casually milling about, or some white tail deer grazing in the fields. When you see them, you might think they have been cued to make an appearance and you begin feeling the weight of your burdens slip away as you continue on to the Inn.

The open drive moves you toward a canopy of maple and aspen boughs and you find yourself traveling through the majestic canopy as if they are there to provide shelter from the things you wish to temporarily leave behind. You will experience a growing anticipation as this tunnel of leaves and branches escort you across a quietly flowing brook that will be fully realized once you emerge from it to find expansive skies, rolling fields and, of course, On Eagles Wings Inn.
In the heart of what is truly one of nature's blessings, On Eagles Wings Inn awaits you.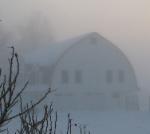 The sounds of birds welcome you. Open skies give the feeling of freedom from the grind. A glistening spring fed pond trimmed with cattails reflects a mid Michigan sky and acres of grass lands and wooded trails invite you to rest your mind, body and soul.
Once you've reached the Inn and step out of you car, you'll notice the newly restored, one of a kind, Amish built barn once home to quarter horses and angora goats.
You will also notice something you may never have realized you missed… the quiet sounds of nature.
The regeneration of your soul has begun.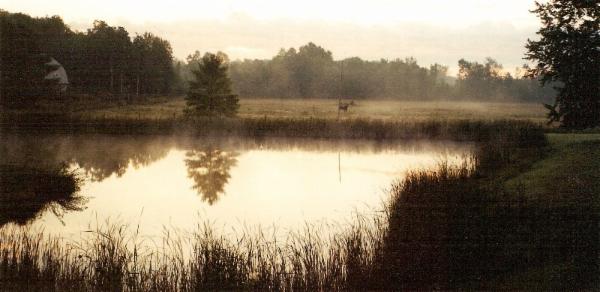 We Welcome You.